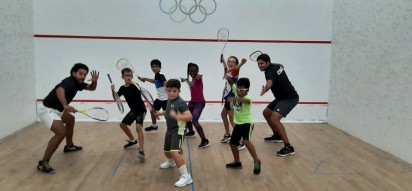 MINI BALLS (BRONZE)
Ideally 6-10 years old
The Bronze group is the fundamentals group.
Low intensity where the emphasis is fun, whilst creating an energetic and exciting environment.
Multilateral development is of essence. Running, jumping, catching, throwing, balancing etc
Basic rules of the game are introduced.
Before advancing attendees should be able to:

Serve from both service boxes.
Be able to hit the ball to at least the service box (consistently)

The group meets 2-3 times per week for 30 minutes.