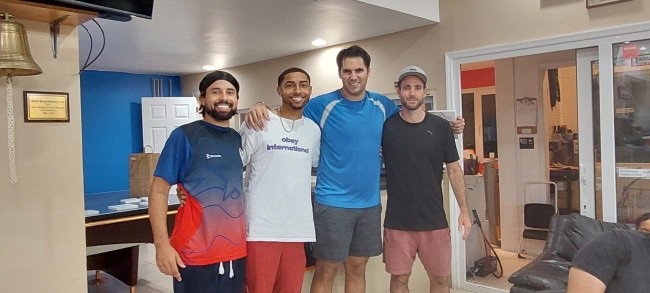 Mar 22, 2022
Spring Splash Tournament (14th - 18th March 2022)
Squashers battled it out on Court for the 1st Individual Tournament of 2022 over the last week.
We had six different divisions with three types of tournament play – Round robin, Round Robin into elimination and Single Elimination to a consolation Round.
Results listed below:
Platinum Division:
1st – Cameron Stafford
2nd – Julian Jervis
3rd – Jake Kelly
4th Jace Jervis
Men's A
1st – Hugo Janse van Rensburg
2nd – Dexter Herbst
3rd - Isaiah Robinson
Men's B
1st – Maxwell Johnson
2nd Keith Higgins
Men's C/D
1st – Nick Buckley
2nd – Ray Farrington
Women's B
1st – Jayne Craig
2nd – Lori-Ann Foley
3rd – Margit Daugela
Women's C/D
1st – Jamie-Kae Smith
2nd – Lorraine Gillies
3rd – Joelle Gibson
The Spring Tournament was an opportunity for players to put their practice into competitive play. We had some keenly contested matches with a few 5 setters. The Men's B final provided much entertainment and went down to the 5th game for the decider. The Women's C/D winner clenched the victory by 1 point and the Women's B 2nd/3rd place was also a difference of 1 point.
Special mention to the Juniors that entered and made their path through to the consolation rounds of the Men's C/D. Also, very special mention goes to the women/Juniors in the C/D category that showed great poise and competitiveness albeit in their embryo stages of their squash path.
SSSC is committed to facilitating more competitive play through frequent Tournaments throughout the year.
The 4 players in our Platinum group will be heading to the upcoming FPS Championships to be held in Guatemala, April 1- 10th and we wish the Juniors all the very best in The Links International Junior Squash Tournament this weekend.